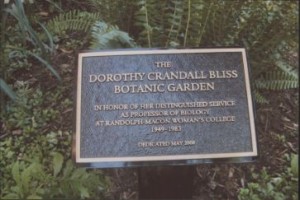 A long-held dream of Professor of Biology emerita Dorothy Bliss was to provide a place of research and beauty for students, faculty, staff and guests. The College's botanic garden was established in 1994 through Dr. Bliss's efforts. When she began the garden, Dr. Bliss received volunteer help and plant contributions from the Native Plant Society and the Blue Ridge Wildflower Society, whose first president donated more than 100 native plants. However, long time College faculty, staff and friends acknowledge that it is Dr. Bliss' personal attention that has enabled the garden to thrive and grow.
In 1997, 182 alumnae and friends of the College joined together to create the Botanic Garden Endowment Fund to ensure that students, faculty, staff and guests could benefit In perpetuity from all the botanic garden has to offer. The College continues to receive gifts to support this fund. It was apparent to Professor Bliss that as human populations increased and development threatens plant communities, botanic gardens such as ours are a critical resource for plant conservation, study, awareness, and enjoyment. We are grateful to alumnae and friends of the College for their generosity and to Professor Bliss for her vision and commitment to the life of the College.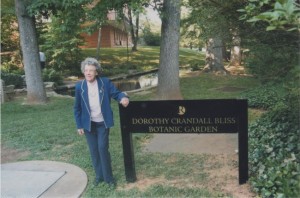 The botanic garden was dedicated to Dorothy Bliss in May 2008. The Dorothy Crandall Bliss Botanic Garden now contains nearly 200 species of plants native to the southeastern United States. The garden includes several endangered and rare plants as well as species of special botanical interest, such as the Ben Franklin Tree which is no longer found in the wild. The outdoor showcase and laboratory of wildflowers and plants serves as an educational tool for students and visitors alike to pique their interest in nature, conservation, gardening, botanical and zoological research.
This tranquil location for the public is open year-round.
We've come a long way from 1995!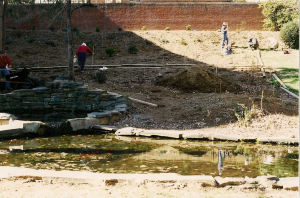 That was then…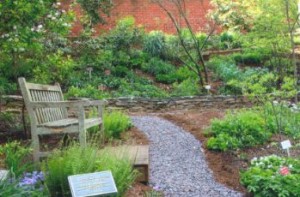 This is now!